How Does It Work?
WebDefender is an effective adblock and firewall app purposefully built to enhance your internet experience. When installed, it does two basic things.
Firstly, it enables you to browse seamlessly or play your favorite games without interruption. It does this by blocking unwanted ads from popping up or showing up while your internet connection is On. Also, you could also restrict internet access on any app of your choice to use less bandwidth.
However, the second basic role is to protect your online activities and personal data from being tracked by unwanted third-party. And as well, break through any form of restriction access due to location or whatsoever. Meanwhile, you don't need to Root your device before you can use this app.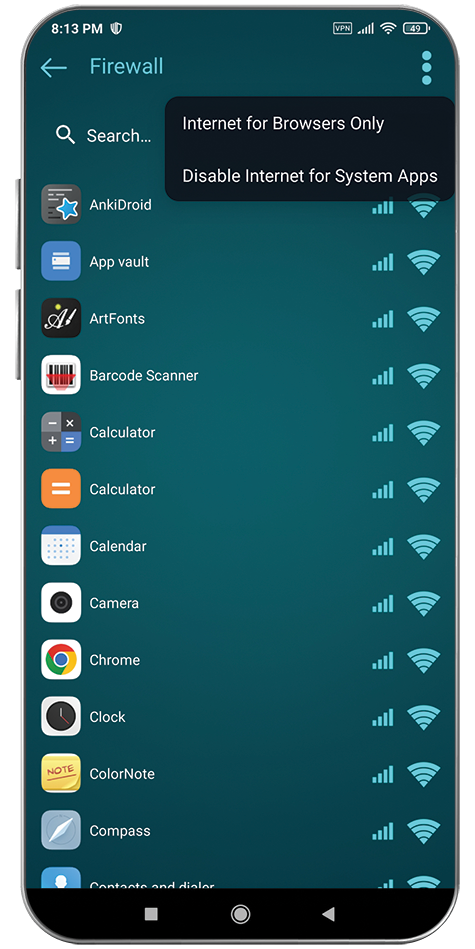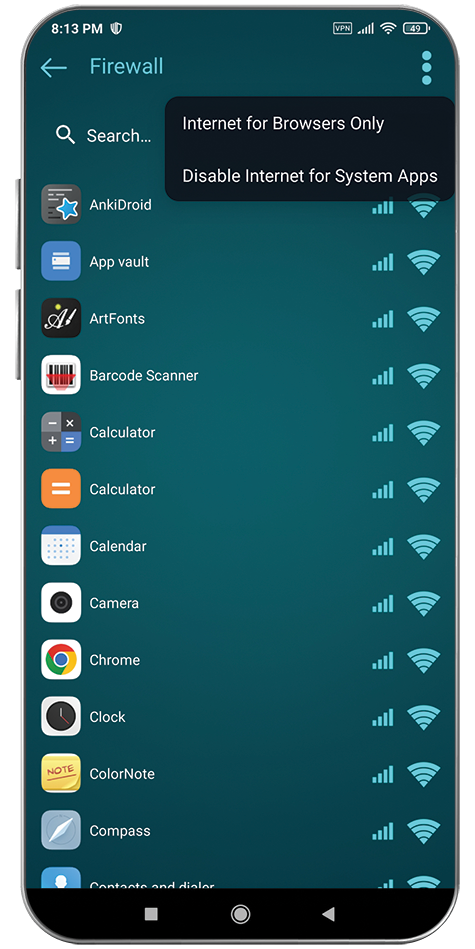 WebDefender Features and Functions
This amazing application comes with amazing features purposefully built to aid you safely browse less-stressfully and without unnecessary interruption. Now, let's take a quick look at them
Adblocking feature

With WebDefender, you can block unwanted advertisements from showing up while your internet is on. Of course, these ads can increase internet costs and also interrupt what you are doing. You can get rid of them with this amazing feature

Built-In Firewall

With this, you can control internet access for each application. By restricting access, you could save your internet cost by 50%
Online Anonymity Enhancement

WebDefender enhances your online anonymity by masking your actual IP address and giving you the ability to choose your preferred country. This feature guarantees the privacy and security of your online activities.

Internet Speed Boost

WebDefender can also boost your internet speed to some extent. Of course, due to network issues, internet speed might slow down at some point. With WebDefender, you can boost up the speed.

Online Surveillance Protection

This features blocks unwanted ad banners and tracking systems from third-parties. It also grants you protection against social networks surveillance.

Internet Security and Safety

This feature protects you from malicious sites and activity. It can also warn you against chargeable websites. It ensures your safety is the priority.
Ads
Deleted
Get rid of those unwanted Ad banners that always show up or pop up when your internet connection is on.
Megabites
Traffic Saved
Filter out unnecessary internet connections and restrict internet access on some application to save traffic
Threats
Threats Blocked
Employs robust security measures to proactively prevent access to harmful websites, safeguarding your online experience.
Feel Safe and Secured while Browsing
Usually, some websites or ads try to track your activity or collect your personal data, even without you knowing. Fortunately, you could just block them off with this app. Prevent them from spying on you through social media or any medium. Feel safe and secured while accessing the internet. Get this app today!
Do you have any questions for us?
Now, WebDefender is available on the Samsung Galaxy Store, Amazon Appstore, and Huawei AppGallery. Depending on your phone model, visit the appropriate app store, download, and install the application. You are done, enjoy!
In short, it's not our decision. Google simply earns revenue from advertising, and they don't like such apps.
The Xiaomi GetApps store lacks the capability to host paid applications, and our attempts to incorporate in-app subscriptions were hindered by technical issues stemming from the Xiaomi GetApps IAP-SKD library.
Indeed, the app is paid, with a one-time fee of $9.99 for a lifetime license. Your contribution not only grants you access to premium features but also fuels our continuous efforts to enhance the app you love. Thank you for being a part of our mission to provide top-quality service.
Yes, you can use it for VPN. It can prevent third-parties from tracking your activities online. As well as any unwanted online analytic systems
Just as you uninstall every other app on your mobile, the same applies to this product. Go to your phone settings > Apps, locate the WebDefender app and uninstall
WebDefender can enhance your internet experience by preventing unwanted ads from interrupting with what you are doing like, when playing games or surfing the internets or other application. It can block unwanted third-party tracking or analytic systems. With WebDefender, you can also reduce bandwidth by restricting internet access on some apps.
It works very for all devices. But should in case you encounter any issue with the application. You can write your problem to the developer through the app.